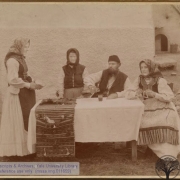 Gomirje District family, year 1895.
Surnames in Gomirje District parish vital records 1750-1875*
in Cyrillic script of Serbian language:
ВУЈНОВИЋ,
ЦЕРАНИЋ
ГАЋЕША
ГВОЗДЕН(ОВИЋ)
ХАЈДАНОВИЋ
ИВОШЕВИЋ
КАРТЕЛИЈА
КОВАЧЕВИЋ
КОСАНОВИЋ
МАМУЛА
МАРАВИЋ
МИЛАНОВИЋ
МИЛЕУСНИЋ
МИЛОЈЕВИЋ
МРВОШ
МУДРИЋ
МУСУЛИН
ОРЛИЋ
ПЕРИЋ
ПОЛОВИНА
РАБАТИЋ
РАНИЋ
СТИПАНОВИЋ
СТЈЕПАНОВИЋ
СТОЈАНОВИЋ
ТАТАЛОВИЋ
ТРБОВИЋ
ТРБОЈЕВИЋ
ВУЧКОВИЋ
in Latin script of Serbian language:
VUJNOVIĆ
CERANIĆ
GAĆEŠA
GVOZDEN(OVIĆ)
HAJDANOVIĆ
IVOŠEVIĆ
KARTELIJA
KOVAČEVIĆ
KOSANOVIĆ
MAMULA
MARAVIĆ
MILANOVIĆ
MILEUSNIĆ
MILOJEVIĆ
MRVOŠ
MUDRIĆ
MUSULIN
ORLIĆ
PERIĆ
POLOVINA
RABATIĆ
RANIĆ
STIPANOVIĆ
STJEPANOVIĆ
STOJANOVIĆ
TATALOVIĆ
TRBOVIĆ
TRBOJEVIĆ
VUČKOVIĆ
*These surnames are found in birth and baptism records for the earliest period up until 1806. The list will be revised and updated as the transcription of the parish records continues. Places of birth and residence that belonged to the parish of Gomirje District: GOMIRJE, VRBOVSKO, BRESTOVAC, VITUNJ, LJUBOŠINA, POTOK MUSULINSKI, TRNOVA POLJANA, HRELJIN and also MORAVICE; TUK, TRŽIĆ, JASENAK, DREŽNICA, OTOK OŠTARIJSKI, DUBRAVE GORNJE I DONJE, PONIKVE, PRIMIŠLJE, PLAŠKI, OGULIN, MOGORIĆ, MARINDOL.
Anyone interested in researching ancestors from that area should try to obtain first the copy of the original birth, marriage or death certificate of their ancestor from the last couple of decades of XIX or first couple of decades of XX century, because despite what you may have heard full vital records are intact and exist for the period from 1860. onwards.
This is crucial for establishing the household number of the family and the large extended family community called *zadruga* that is your family of origin, because so many families from Gomirje District bear the same surname and come from same village. That household number is the one that families were listed under in all records from when the vital records were started by the military authorities for people born after 1750, until new household numbers were introduced after the WWII ended in 1945.
You can only obtain the official certificates by officially contacting the municipal offices in Gomirje and Vrbovsko in Croatia, and the State archive in Karlovac, Croatia (DAK), and you need to hire someone to do that due to red tape involved in the process of obtaining them. At the moment and in the past researchers for hire from Croatia have proven to be quite useless and unprofessional when they were hired to research ancestry from Gomirje District. Often they did not even bother to check which vital records were available and where beyond what anyone else could have researched on their own on microfilms that were available in LDS centres around the world. These LDS microfilmed records are now online and can be browsed in full for free here:
https://familysearch.org/pal:/MM9.3.1/TH-1942-28194-31884-23?cc=2040054&wc=MM5K-GT8:n613031279#uri=https%3A%2F%2Ffamilysearch.org%2Frecords%2Fwaypoint%2FMM5K-LWM%3A21581322%3Fcc%3D2040054
I have, prior to when all records were released online via familysearch . org, reviewed partial records and established based on them provisional listing of surnames, villages and household numbers – partial because only several surnames were researched in detail. The task of now reviewing all of the records that are online is underway and I will update this blog post with new information as I work my way through tens of thousands of individual records of birth, marriage and death for the period 1750-1875.
That partial listing of households you can find here:
https://docs.google.com/file/d/0B0dFhtc76RF0WGM3MFEzUG5KUjQ/edit?usp=sharing
In the meantime while I work on updating and revising that listing, I would like to invite you to read the text about the settling of our ancestors in Gomirje and founding of the Serbian Orthodox Church monastery in year 1600 I prepared in English language:
I would also like to see you post your comments and details of your family ancestry from Gomirje District, so that we can all exchange information and get connected and share and spread the wonderful heritage of our ancestors.
P.S. : Because my previous trip to research in the archive in Karlovac was met with obstacles that were beyond my powers of overcoming, I am planning another research trip that will see me working in the archives, municipal offices and the eparchy with the blessing and help from church authorities of the Epachy of the Upper-Karlovac for summer next year ( 2014), and am inviting anyone interested in sharing costs or contributing towards covering my travel, stay, and research expenses in return for full research of their family history in any and all records that are available there on site to be researched, to contact me via email : [email protected]
More on that and on my recent trip for "Rodoslovlje" from this month to work in the archives in Croatia you will be able to read in my next blog posting.
(This field research trip to Croatia provided me with too many opportunities to first-hand experience some of the *difficulties* that are apparently inevetable for researching ethnic Serbian ancestors from Croatia. That is why if compared to standard genealogy research, researching and documenting ethnic Serbian families from Croatia is what I often refer to as *creating something out of nothing using all available other sources* 😀 )
yugaya
"Rodoslovlje" Serbian Genealogy Society web volunteer team